23.11.21 08:00
Another operation at the South Pole for Royal Arctic Line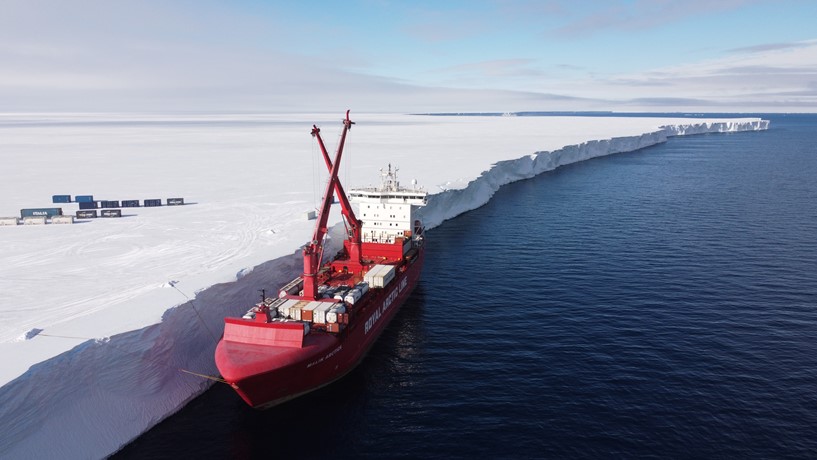 For Royal Arctic Line and the experienced crew on board Malik Arctica, this is far from being a new task. Naja Arctica sailed to the new research station, Neumayer Station III on behalf of the German research institute Alfred Wegener Institute (AWI), for the first time in 2007. Since then, apart from a single season, the shipping company has had a ship working in the Antarctic when winter arrived and the ice closed in around Greenland. Mary Arctica, sister ship to Malik Arctica, has operated as supply ship for the Norwegian station Troll for the last 12 seasons, on occasion calling at the German and Belgian station.
The agreement for this season was made with AWI and its broker in South Africa. The German station Neumayer III is located in Atka Bay and supplies of fuel, food and various machines will be delivered there. Malik Arctica has taken on cargo in Bremerhaven and after calling at Cape Town to take on the final load of fresh supplies, she will sail southwards to face the challenging task of unloading cargo at the edge of the ice, which can be up to 15 metres high. One heavy lift will receive extra attention: the unloading of a 40-ton crane which will be used at the Neumayer III station over the next couple of years.
Malik Arctica has a reinforced hull and the highest ice-classification for container ships and is particularly suited to this type of operation at the edge of the ice. Royal Arctic Line always ensures that the crew includes members who have worked in the area before, so they can pass on their experience to first-time crew members. This ensures top-professional services on the present voyage and also ensures that this core competence is maintained within the shipping company for the future, in a region where navigation and operations are particularly challenged by difficult ice and weather conditions.
- We are pleased and proud to once again offer our customers in the Antarctic our core competence, i.e. operating in hard-to-reach Arctic regions. At the same time, we are able to use our available Greenlandic ship tonnage at a time of the year that lies outside the usual peak season in Greenland, says Chief Commercial Officer, CCO Niels Clemensen, Royal Arctic Line.
For further information contact: Niels Clemensen, phone: +299 34 91 11,
e-mail: nic@ral.gl