10.06.20 11:00
An historic day for Royal Arctic Line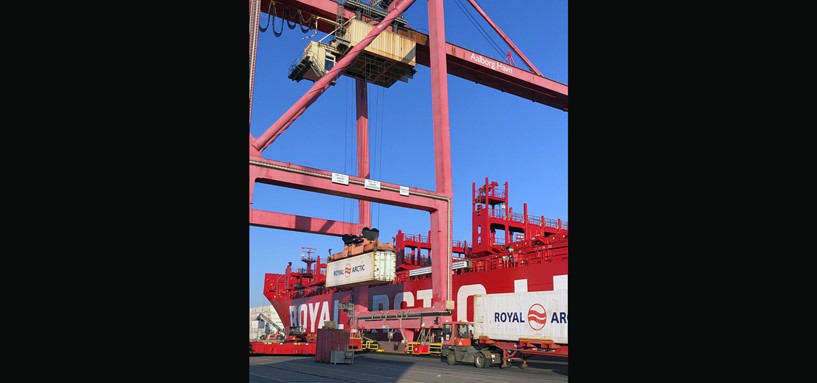 Today is an historic day for Royal Arctic Line and for Greenland.
Royal Arctic Line's joint services with the Icelandic shipping company Eimskip start today. This changes 246 years of sea transportation to and from Greenland. The shipping company's newest vessel, Tukuma Arctica which will be used for the joint services, will take on its first cargo under the new system in Aalborg today. The vessel then sails to Aarhus, leaving on June 12th and heading first to Reykjavik and then to Nuuk, arriving on Friday, June 19th. A new era for supplying and sailing to Greenland has become a reality.
It will be easier for Greenland to do business with the rest of the world with Royal Arctic Line sailing to more ports, thus creating connections to other route nets, including Eimskip's route net which stretches from the Nordic countries over Europe to North America and Canada.
It has been necessary to divide implementation of the joint services into two phases, because of delayed delivery of one of Eimskip's two ships, Brúarfoss, from the shipyard in China. Today, when the first phase begins with Tukuma Arctica's departure from Aalborg, the ships will sail via Reykjavik to and from Aalborg. Calls will also be made at Helsingborg and later to Frederiksstad in Norway.  
Royal Arctic Line's ocean-going vessel Mary Arctica will be used as the third ship until the start of the second and final phase of the joint services which is expected to be on October 28th, 2020, when Brúarfoss is expected to sail from Denmark headed for Helsingborg, Frederiksstad, Aarhus, Torshavn, Reykjavik and Nuuk. With this, all three ships will be ready for the cooperation between Royal Arctic Line and Eimskip.
Verner Hammeken, CEO, Royal Arctic Line:
"For Royal Arctic Line, this is an exciting and historic moment. We are entering a new time. 246 years of sailing to and from Greenland have changed. We stand at the beginning of an era with more flexible transport solutions for Greenland. Solutions that will make it possible to do business directly with Greenland, regardless of where you are in the world. This is what we are working for, when we say "Royal Arctic Line makes doing business with Greenland easy".