18.05.16 11:00
Royal Arctic Line A/S and Eimskip sign a Letter of Intent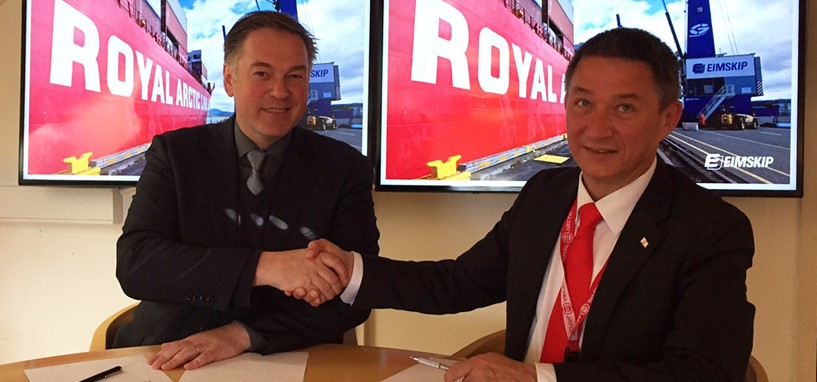 Today, Eimskip and Royal Arctic Line A/S signed a letter of intent to connect Greenland into Eimskips international sailing system through a capacity sharing agreement -  connecting Greenland to the rest of the world. The two companies intend to work together through capacity sharing on larger vessels that will increase efficiency and service reliability.
The companies will invest in and operate container vessels which will be designed and built for the special weather conditions in the Arctic and the North Atlantic and in accordance with the Polar Code. The new vessels will be more fuel efficient and therefore more environmentally friendly. The estimated time of designing and building the vessels is two to three years. The new vessels will connect the transport systems of Greenland and Iceland with Scandinavia, Europe and North Amerika.  
A final agreement would be subject to approval from the companies' owners, the Icelandic and the EU Competition Authority.
Gylfi Sigfússon, President and CEO of Eimskip
"Planned port developments in Nuuk, Reykjavík and Tórshavn are enabling larger vessel sizes in the market area. Pooling Eimskips volumes with Royal Arctic Line by using fewer and larger vessels facilitates efficiency gains. The cooperation is an important step of Eimskip's renewal and development of the vessel fleet and expands Eimskip's coverage of the North Atlantic."
Verner Hammeken, CEO of Royal Arctic Line
"This is an important step for connecting Greenland to the global markets. This creates opportunities for our export customers, allowing  goods to be further refined in Greenland before transporting them directly to destinations all over the world in a more efficient way. Customers can also select transportation directly from new market areas instead of having to go through Denmark. With this, we are looking at a future with more options, higher efficiency and ease of use, making it easy to do business with Greenland"
About Eimskip
Eimskip runs a network of 57 offices in 19 countries and operates 20 vessels. The total number of employees is about 1,580. Approximately half of Eimskip's operating revenue comes from operations outside Iceland. The company's vision is to provide outstanding transportation services through a dependable transport system in the North Atlantic, as well as offering an extensive worldwide network of reefer logistics services.
Eimskip has been an agent for Royal Arctic Line since 1993. Recently this cooperation has been extended by Eimskip subsidiary TVG Zimsen being appointed as forwarder of air freight and trucking for Royal Arctic Line in Europe.
About Royal Arctic Line
Royal Arctic Line A/S was founded in 1993 and is wholly owned by the Government of Greenland. The Government of Greenland has given Royal Arctic Line A/S sole concession on sea transport of cargo to and from Greenland and among Greenlandic towns and settlements. This has made the Company a lifeline for Greenlandic society. Royal Arctic Line also operates 13 ports in Greenland.