29.04.16 11:00
Royal Arctic Line: 1st quarter results improved by volume growth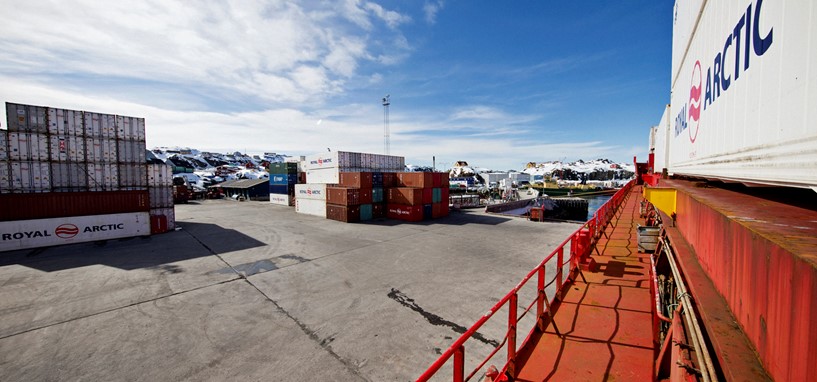 Normally first quarter is a challenging period for Royal Arctic Line with low volumes to and from Greenland due to ice conditions and seasonal variations. In 2016 cargo volumes have increased significantly over 2014 and 2015 levels.
 
After several years of decline in export volumes, 1st quarter exports from Greenland have grown by more than 30% compared to a low 1st quarter in 2015. Similarly exports also surpassed the 2014 levels for the same period. Imports in 1st quarter 2016 also grew by more than 30% against the same period in 2014 and 2015. In addition to the growth from normal trade there was a strong growth in project volume from construction activities.
 
The volume growth, combined with overhead cost reductions, leads to a result of DKK 8.4 million (USD 1.5 million) from operations for the first quarter of 2016 (2015: DKK -25.1 million / USD -4.5 million).
The improvement of DKK 33.5 million (USD 6 million) is obtained by increased revenues of DKK 12 million (USD 2.2 million) after deducting a DKK 5.8 million (USD 1 million) decrease in CAF/BAF income, DKK 8 million (USD 1.5 million) in savings from administrative and personnel costs as well as DKK 5.5 million (USD 1 million) in savings from reduced bunker cost. Remaining DKK 8 million (USD 1.5 million) cost reductions relate to vessel operations and periodic shifts in costs.
 
Royal Arctic Line expects a continued growth in exports in 2016 and will increase the frequency of sailings back to a weekly service to and from Greenland while also improving the export connections via Iceland in addition to the existing Iceland connection for imports.
During the 1st quarter the company took delivery of the first newbuilding from its newbuilding program for the Greenlandic settlements and after preparations in Denmark the vessel will commence its operations in Greenland. The newbuilding program suffers from delays and this will lead to additional costs of operations.
 
With the implementation of a separate port authority in Nuuk, Greenland from July 2016, additional administrative and operational charges are introduced to the company as well as to its customers.
 
The Chairman of the board, mr. Kuno Fencker, states in connection with the quarterly results: "We are pleased to observe the development in the cost curve for the fixed overhead costs. We are moving towards a new era with a transshipment hub in Nuuk. The company will steer itself safely towards the opportunities this give for our customers to make it easy to do business with Greenland.  At the same time a constant focus will remain on managing our costs. We are embarking on a fantastic journey for the benefit of Greenland."
 
"We have an important role to play as part of the growth engine for Greenland and we are particularly excited about the growth in exports this year" says the CEO of Royal Arctic Line, mr. Verner Hammeken. "We have started the year well and for that we are satisfied, but there is still a long way to go for the long term improvements we must find, in order to offer modern solutions for connecting Greenland to the rest of the world, at effective costs which stimulate economic growth".
 
With the expectation of a continued growth in exports throughout 2016 and imports for the rest of the year to remain at similar levels as 2015, the financial result for 2016 is expected to remain at 2015 level.